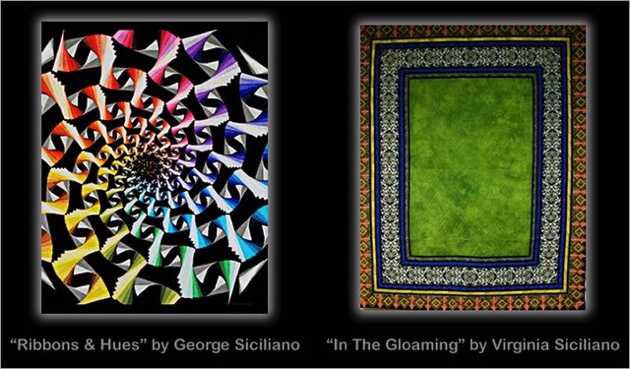 GeorgeSiciliano.com
the MiniatureQuilter.com
Hi, I'm George Siciliano. I make, miniature quilts. Virginia, my best friend and my wife of over 57 years, also makes quilts.
We share a "quilt studio"  in our home in Lebanon, PA. Virginia is also a teacher of hand quilting.
We especially hope you enjoy your visit to our site. Spend as much time as you wish, if you should have any questions or comments you can email, phone or write to us. We will contact you as soon as posible.
Be sure to visitour on line store. Of course my patterns are all my own designs and they are all very doable. We've added a new Designing Logs Kit. This kit lets you design your own quilt. It's loads of fun especially with the grand kids and especially with your spouse.
Be sure to check out my seam allowance guide. This guide was especially designed for foundation and paper piecing quilters. It's for a right or left handed quilter and can be changed from a 1/4 inch to a 1/8" guide simply by moving the post screw. If you do foundation or paper piecing this item is a "must have."
Before you begin your visit, I would like to ask you a small favor. We go to many quilt shows, if you should see us please come over and say hello. We would really like to meet you.
Happy Quilting From Both of Us.
© George and Virginia Siciliano 2019