George Siciliano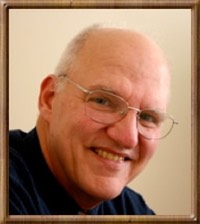 I'm a Marine and a former member of the United States Marine Drum & Bugle Corps (The Commandants Own) in Washington DC from 1961-1966. After my separation from active duty (Marines NEVER really separated), as a hobby, I taught children how to play a horn at the Washington DC Police Boys Club. In the 90's I marched in a fire house Senior Drum & Bugle Corps on Long Island, New York.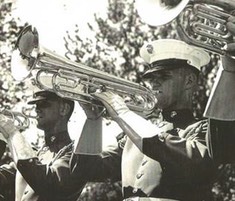 In September of 1997 I took up quilting (my wife's passion). I decided to specialize in variations of the 'log cabin' block because I saw the endless design possibilities. I currently have over 150 different variations of this block on my computer's data base.
I have been awarded over 78 ribbons for my unique miniature works in local, national and international shows, with 29 of these being a first place 'blue'.
I've also have been published in many quilt magazines, books, and newspapers including The American Quilter (AQS Magazine), Quilters News Letter, Quilt Mania (published in  France in French and English and distributed world wide), Miniature Quilts Magazine, and many more.
I was nominated to the Professional Quilter Magazine for their "Quilt Teacher of the Year" award four times. 
We've demonstrated our techniques at the National Quilt Museum in Paducah, Ky. (formally the Museum of the American Quilter's Society) and at the American Folk Art Museum in New York City. One of my quilts was part of the American Quilters Society's traveling exhibit called, "Man Made Quilts". 
I teach and demonstrate my unique techniques to guild members and show goers all over the United States and Europe including Wales, Spain Sweden and Norway. Our easy going style of teaching makes the construction of a "miniature masterpiece" very doable and lots of fun.
Virginia Siciliano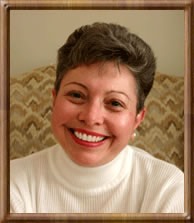 (Sometimes called "The Saint" for allowing George in her sewing studio!)
Virginia Siciliano has been quilting for almost 50 years. She enjoys taking traditional patterns and using them in unique ways. She has a wonderful color sense and finds that each quilt she makes challenges this sense. Upon selecting the color palette her next challenge is fabric choice and placement. 
She is part of the fast disappearing breed of quilters who feel that hand quilting is the most exciting and fulfilling part of the quilting process. She is nationally recognized for her beautiful hand quilting. 
Among her achievements:
In 2001, a third place award in the "traditional pieced" category at the American Quilters Society Show, Paducah, Ky. 
Her quilt "Samarkand" was one of the quilts chosen to be displayed at the Japan Quilt Expo in Tokyo Japan, and was also featured in the book "Foundation Borders" by Jane Hall and Dixie Haywood published by the American Quilters Society"
Virginia shares her quilt studio with her husband (over 52 years), George, and as of this day, they are still talking.
Two of George's and one of Virginia's quilts were selected to be part of the permanent collection of the "National Quilt Museum"  in Paducah, KY.  We are the first husband and wife so honored.