Pennsylvania residents will be charged sales tax, 6%.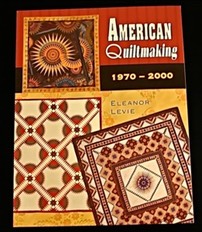 American Quilting 1970 - 2000 written by Elaenor Levie and published by The American Quilters Society
In the last 30 years of the 20th century the quilting industry literally exploded with talented quilters and fabric companies recognizing a need by filling it with thousands of fabric choices and gadget companies manufacturing tools to help the quilter express their creativity. Quilt guilds sprang up all over the world recruiting and inspiring new quilters and recognizing the talents of past quilters.
This book shows you the results of the last 30 years.  This journey includes all disciplines from miniature to full sized quilts. As a result of interviews with these quilters you get an inside look as to their motivation and their skill development. While this is not a "how to" book after you read the individual stories you'll know what to do.
Happily, I must tell you one of my favorite quilts was chosen and included in this wonderful book.
This is definitely a must have book for your quilt library.
Foundation Stuff- This is the stabilizer product George uses for all of his foundations. IT IS SPECIALLY MANUFACTURED TO HIS SPECIFICATIONS. There is very little distortion and it is easy to work with. It comes packaged with 50 sheets.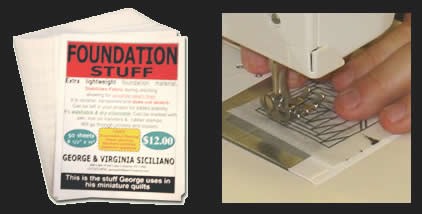 ( 8 1/2 x 11 ) and will go very nicely through ink jet and laser printers.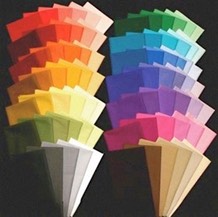 Web Specials- "Unlike the paint artist, we quilt artists must have the right color in our stash to complete the project. I am going to give you an opportunity to have ALL 12 colors in the color wheel in 6 different shades. (that's 72 different colors)
The cost would be $180.00 for the 12-6 step gradations in fat quarters.
BUT WAIT... I love it when they do that on TV...
I will give you the black to white and the neutral gradations absolutely FREE. 2-six step gradations)So this would be 84 different colors (14 -6 step gradations) of first line high quality 100% cotton fabric. This is a savings of $30.00.
The postage charge is $3.00 (for the US and Canada) no matter how much you wish to purchase. International postage is $20.00 and does not include customs fees.