Currently we have suspended all workshop activity because of illness. We have modified our workshop materials and they are for sale as patterns in our store. 
Virginia and I believe in the sharing process. Please note that while I call this page "George's Workshops" in fact, Virginia and I teach the classes together. As a result of this we will take as many as 30-40 students with no loss in personal attention. Two teachers for the price of one. Now that's a bargain.
Quilters are a creative lot. We must learn to trust our ideas and instincts and strive to improve our skills. Our workshops are designed to help you help yourself by melding your creative talents and our innovative ideas as they apply to color, design and especially technique. In short, our workshops are not about us but rather they are all about you.
All of our sewing workshops are "technique driven". George has taken the age old technique of foundation piecing (paper piecing) and invented a special tool. With proper use, this tool eliminates all of the reasons why lots of folks who try foundation and paper piecing never go back to it. Foundation piecing is now exciting and fun.
In all of my workshops the technique I teach is basically foundation piecing. I have developed a new way of constructing blocks using my patent pending "Seam Allowance Guide" for foundation piecing which minimizes waste and increases enjoyment. This  "patent pending" guide will be included with all of the sewing workshops.
All of the 'sewing workshops' have the same  kits and supply lists. This information is available at the bottom of this page. If you have any questions about any of this information, please contact us.
Sewing Workshops
Glow In The Dark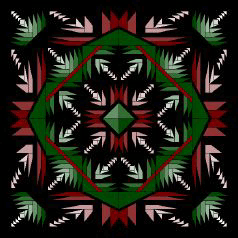 "Size Really Does Matter"
- All skill levels, machine class
This is a miniature quilt workshop. In this workshop you will learn the entire process for making a miniature 'gem', from the design of a block and pattern right thru to the construction process. You will learn some tips that will take the guesswork out of joining patches and blocks, without using pins. The skills learned in this workshop can be used on any size quilt. The block you will make is George's own original design. (the first in his "Amazing Log Cabin Variations" series.) The finished quilt pattern is called "Glow in the Dark". Virginia and George teach this class together. You'll definitely enjoy this experience. They firmly believe "Quilting is Fun."
Just a note: If you are a fast quilter we will provide you with a glass of water in the event your machine catches fire. If you're like me (slow and deliberate), we will stay with you. No one gets left behind. This is the beauty of having two teachers. In this workshop you will not only learn to sew this block but how to draft and embellish it with extra pieces. You will learn some really cool and practical tricks, which could be applied to any quilt block. This workshop is loaded with new techniques, lots of tips and a ton of fun.
Twirling Logs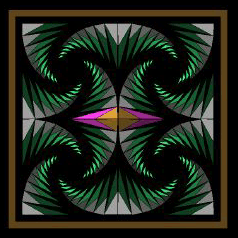 "Twirling Logs" 
- All skill levels, machine class
"Twirling Logs," the block, is the second in the "Amazing Log Cabin Variations" series. This is not a miniature quilt block.(7") The block is an original design with its origins in the "twisted log cabin". I will show you how to draft this wonderful block and you do not have to be an engineer! (This design provides the quilter with what seems like an endless supply of design elements for future quilts.) The emphasis is on speed and accuracy. You select the colors . Just a note, Both George & Virginia teach this class. They prove that "Quilting is Fun". 
Ascending Logs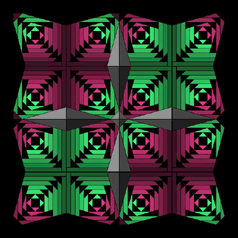 "Ascending Logs" 
- All skill levels, machine class
Ascending Logs is the third in George's "Amazing Log Cabin Variations" series. This is a miniature quilt workshop. The block is an original variation of the uneven log cabin used in several of his original designs. This block takes the uneven log cabin to new heights. It is relatively simple to draft and construct, however it leaves folks scratching their heads. As with all of our workshops, George & Virginia teach this together. You will not soon forget this experience. "Quilting really is Fun"
Square Hexagon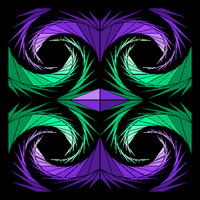 "Square Hexagon" 
- All skill levels, machine class
The Square Hexagon workshop is especially exciting. The block is an 8" block and is not a considered a miniature. Certainly you can make a quilt using just this block, however it can also be used as a focal point of a larger quilt. It's six arms can be combined with other blocks in a quilt to cause a radial look from the center.
The Birds of Paradise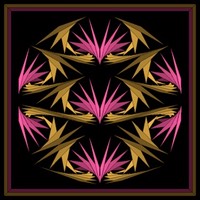 "The Bird of Paradise" 
- All skill levels, machine class
This pattern was created with one of my original blocks. It's an uneven twisted log cabin triangle. When joined they create the most pleasing design elements. Like many of my blocks they can be used to make a quilt on their own or used as a design element in a larger pattern.
The Fourth of July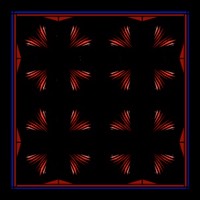 "The Fourth of July" 
- All skill levels, machine class
The Fourth of July is the latest in the "Amazing Log Cabin Variations" series. This block is an uneven, modified, twisted right triangle log cabin with points. This is one of over 100 variations of the log cabin blocks I currently have in my log cabin block arsenal. While it could be a stand alone design, it really shines when added to other designs. You literally can make your colors "explode".
Virginia's Workshop
"Hand Quilting Is Fun"
-All skill levels, hand work
We'll get down to the basics of hand quilting with a no nonsense approach to a great quilt stitch. This is a fun class where you learn that it does not take special equipment or tools to get a beautiful result.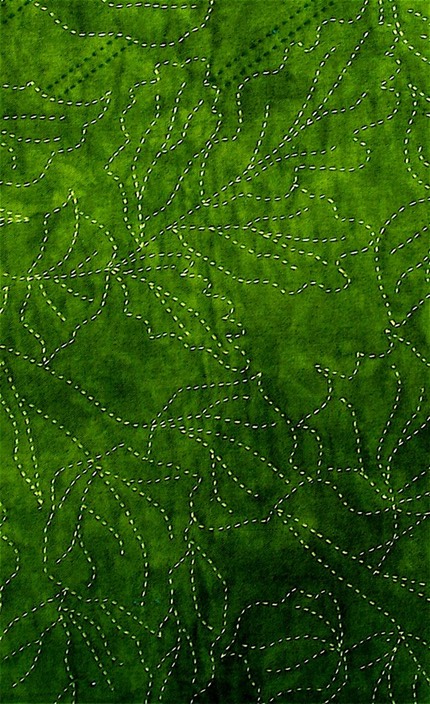 You'll be shown several techniques for preparing your quilt, including transferring your designs onto the fabric surface, along with basting the layers together. Emphasis will be aimed toward making an even quilting stitch with the proper selection of needles, thread and batting. Bring your imagination and your desire to learn or improve your hand quilting results. We're going to have fun by making beautiful designs with a needle. 
BUT WAIT!!!....as an added bonus, my husband George, you know "my first husband" maker of "those" incredible miniature quilts, will assist me in this class and he promised to bring several of his minis so you can get a real close look. He also likes to tell funny stories. He's a real piece of work! You're definitely going to have a good time! 
Kit Fee: $10.00 includes 1/2 yard of fabric, batting, Needles, thread for basting and quilting, loaner hoops (if needed), pins, marking pencils and a booklet to take notes if you wish. 
SUPPLY LIST:  thimble, 14" hoop (or we'll loan you one), portable light source (if possible), "Prismacolor Pencil" cool gray or warm gray (important) and a blue washable fine-line pen (for quilters). 
Kits And Supply Lists for ALL Sewing Workshops
All workshops have a materials kit fee. The fees for these kits are collected by George at the end of the workshop. This is a must as it eliminates unnecessary confusion. You may copy these pages in order to pass out coppies to the students
Kit (required) - $60.00 per student - This kit includes the following items:
• A specially designed (patent pending) 8" or 12" seam allowance guide retail $12.00 or $18.00. The block size determines the size of the guide.
• The original pattern for the workshop, which includes:
• All foundations printed on "Foundation Stuff"
• Block schematic, cutting chart, fabric gradation chart and a worksheet.
• 2- six step gradations (1/4 yard each color, 12 colors in all) retail $30.00 or 2-1yard pieces of our Gelato fabrics.
• 1 yard of a background solid fabric retail $10.00*
• *For the "Ascending Logs" pattern only you will receive, 1/2 yard of background fabric, 1/8 yard of each an accent color, a light,medium and dark color for the diamonds.
Total kit is a $72.00 value. 
Workshop students only pay $60.00 for kit.
Student Supply List (all students)

1. sewing machine (in good working order, please check it out before you come to the workshop) We also must have an open toe foot. I have included a picture at the right of an open toe foot. Most sewing machines have this foot as part of their basic tool kit. This is a very important  item so please make sure you have it.         
2. rotary cutter 45mm (nice and sharp, a new blade would be nice) with a cutting mat no larger than 10" x 16". Rulers are not necessary for workshop students as I will give you my "Triple Duty Seam Allowance Guides" which includes the ruler as part of your workshop kit.
3. light gray or white thread in bobbin and spool (If you would like to try some of the thread I use bring 2 extra bobbins and I will give you some.
4. a thread nipper or a small scissors.
PLEASE NOTE: In all of our sewing workshops the "kit" includes my "triple duty seam allowance guide". This is our way of thanking you for participating in and showing up for our workshop. It is also a tool which helps the guilds and shows fill up the workshops.  We all like "something for nothing". So bottom line is if you are in the workshop we will personally hand you the guide and thank you for taking part. No exceptions.
Non-Sewing Workshop
"Designing Logs"
All skill levels. Non sewing design workshop. Full day. This workshop also works well as a half day event.
Please, tell me it isn't so...not another log cabin class. Ahh, but wait, George Siciliano has well over 150 different variations of the log cabin block. Not only is he willing to show you some of these beauties, he'll show you how to design and draft some new ones of your own. You'll learn how to make the block disappear in your quilt by taking advantage of unique design elements and color placement. The learned techniques can be used for any sized quilt. This workshop is very relaxed and lots of fun.
There is a workshop kit fee:
Design Kit: $20.00 per student.
400 printed blocks (20 to a sheet) with 10 unique variations.
After you've designed your quilt you will receive all of the foundations necessary to complete your design (max 28). Additional foundations would be available for sale if the need arises. 
We will also have all 135 colors available for sale if you wish to purchase the fabric to complete the quilt.
Student Supply List
A rotary cutter with a blade that will be used to cut paper (an older blade), a cutting mat with a 12" ruler  or a scissors. If you have a digital camera bring it as it may be helpful.
A word about our kits. In any classroom setting, continuity is critical. If all of the students are working with similar tools and supplies we found that everyone has a good learning experience. We want you to express your individuality with your choice of colors. You're there to learn a technique and that is best accomplished if all are learning with the same tools.