Click on the fabric of choice to purchase.
 Check out these fat quarter gradations!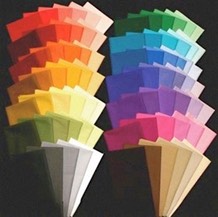 Web Specials- "Unlike the paint artist, we quilt artists must have the right color in our stash to complete the project. I am going to give you an opportunity to have ALL 12 colors in the color wheel in 6 different shades. (that's 72 different colors)
The cost would be $180.00 for the 12-6 step gradations in fat quarters.
BUT WAIT... I love it when they do that on TV...
I will give you the black to white and the neutral gradations absolutely FREE. 2-six step gradations)So this would be 84 different colors (14 -6 step gradations) of first line high quality 100% cotton fabric. This is a savings of $30.00.
BELOW are beautiful Gradated Gelatos
Oh my goodness, you must try this fabric below. The gradation goes from selvage to selvage with the middle being the lightest and then back to the darker color at the other selvage. They did this so you could cut fat quarters and fat halves. 
The strips your looking at below are only half of the width.
You want a design to glow? Here it is! Look closely at the picture and you will see a slight "grain". I first saw this fabric in Sweden and I had to have it. I made a few samples of my workshop projects and without putting too finer point on it 
THEY BLEW ME AWAY!
We sell this fabric in yard cuts only. The cost is $15 per yard.
Order by number. All colors are in stock at this time.
You will not be sorry!
Instead of the 6 step gradations you can use a one yard cut of this fabric there would be enough to finish the top of any of my patterns.
To purchase these gradations, be sure to include the item number with your order in the space provided. Gradations come in 1 yard lengths.

WE NOW ACCEPT PAYPAL, how easy is that?